Roll Shutters
---
Instant Two-Way Thermal Barrier
Now you can add protection, privacy, and insulation to your home at the touch of a button. Roll shutters provide an instant "safety shield" to the exterior windows and doors of your home. They conveniently roll up and out of sight at the simple push of a button.
Roll shutters are installed on the outside, but are operated manually or electrically from the inside. They are a highly functional product, protecting your home or office against burglary, vandalism, and storms, as well as providing added insulation to your windows and doors - and instant privacy when you want it.
Roll shutters provide a two-way thermal barrier for your windows and doors to shield out the heat and cold. They reduce heat gain and air conditioning costs in the summer and keep out the cold to reduce heating costs in the winter. For insulation, acoustics, and strength, each profile is filled with a durable polyurethane foam core. All of our profiles have been rigorously tested for Impact, Fire, Wind Load, Airborne Sound, and Thermal Resistance (R/U Values) at several qualified testing laboratories.
---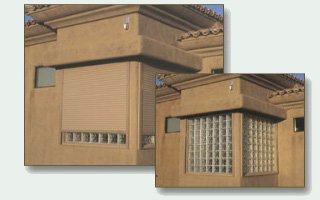 "This is the second job Nevada Seamless Rain Gutters has completed for us and again, we are very pleased with both the quality of your work and the interaction with your staff. It is very refreshing to have calls returned in a timely and professional manner!"
— Erich & Linda von Batsch Carson City, NV
Free Estimate